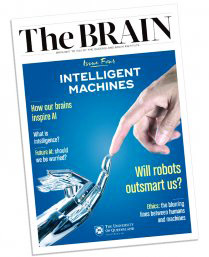 The University of Queensland
has published a free magazine on intelligent machines and the brain to help people sort through fact and fiction on this increasingly hot topic.
Institute Director
Professor Pankaj Sah
said AI was becoming an intrinsic part of our lives, but to truly understand the technology and how it may evolve, we need to understand our own brains.
"AI is everywhere in some form – each time you use a photo filter, have junk mail filtered from your inbox or get a traffic update on your phone, AI is at work," Professor Sah said.
"The brain is the most powerful machine currently in existence, so it's little wonder it is a central source of inspiration for AI and robotic technology.
"With unparalleled efficiency and the ability to learn and adapt, it has formed the blueprint of much research in the fields of AI and robotics.
"Technology is merging with neuroscience in ways that will have a huge impact on society.
"This issue of The Brain provides a grounding in the neuroscience behind AI, and examines the future implications – both positive and negative – of this evolving technology."
The Brain: Intelligent Machines covers the evolution of the brain and the history of AI, what our robotic future might look like, merging brains with machines for medical breakthroughs, the future of AI technologies and how our brains have shaped AI.
The Brain: Intelligent Machines can be downloaded at www.qbi.uq.edu.au/intelligentmachines and is the fourth in The Brain series, with previous issues focusing on concussion, learning and memory, and dementia.
To publish an extract, please contact communications@qbi.uq.edu.au.
Media contacts: QBI Communications, communications@qbi.uq.edu.au, +61 405 661 856.