This article was originally published on Queensland AI Hub.
Queensland is home to one of Australia's leading artificial intelligence (AI) ecosystems. Our people, companies and organisations are putting AI in action, creating solutions for some of the world's grandest challenges.
Case in point. Researchers at The University of Queensland are using AI – embodied in robotics and virtual reality (VR) – to better understand and accelerate neurological recovery after stroke.
"We have to think of AI not just as artificial intelligence, but rather as augmenting human intelligence," says Dr Alejandro Melendez-Calderon, an expert in human augmentation technologies used in medicine (robotics and wearable devices).
His research focuses on use of robots, incorporating computer vision and AI, to detect small changes associated with neurological recovery that are difficult for humans to quantify.
"We want to augment human capabilities, through AI, by extending the ability of physical therapists to capture changes in recovery that are difficult to detect with current methods," Dr Melendez-Calderon said.
"AI should not be viewed as taking people's jobs. It's a transformative technology that can complement and improve the way health professionals perform their current jobs."
Similarly, his colleague, Dr Antonio Padilha Lanari Bo, credits AI as the enabler for VR to be introduced into clinical rehabilitation.
"AI has enabled the development of VR headsets so interaction with the virtual environment is done with your bare hands," said Dr Bo. He is currently leading a research trial at Metro North Health in collaboration with Herston Biofabrication Institute and Royal Brisbane and Women's Hospital.
As Dr Bo explains, AI not only tracks hand and finger movements (without the need for sensors or controllers), but can adapt rehabilitation tasks in a virtual environment to best suit individual patients' abilities and progress.
"It definitely means that rehabilitation will be accelerated, and patients may be able to achieve levels of recovery that were not possible before," he said.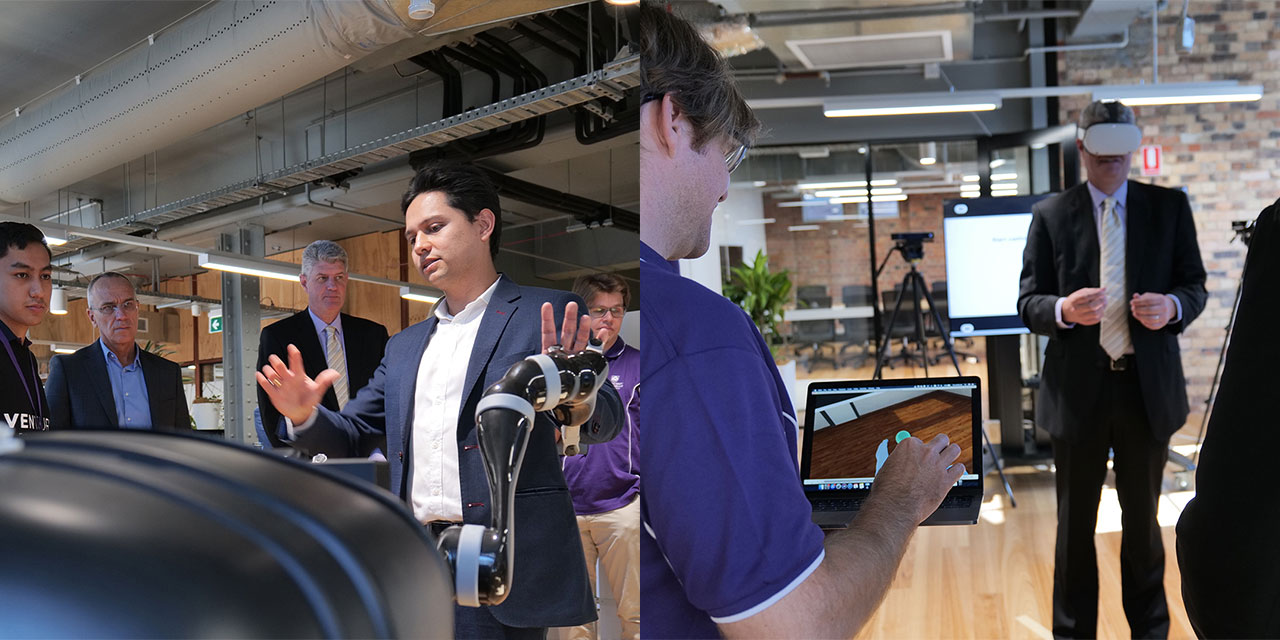 Special thanks to Drs. Alejandro Melendez-Calderon (left) and Antonio Padilha Lanari Bo (right) for visiting Queensland AI Hub to demonstrate AI in action to better understand and accelerate neurological rehabilitation.
Keen to find out more?
The 'AI in Action' research projects featured in this video fall under the Biomedical Engineering Group within The University of Queensland's School of Information Technology and Electrical Engineering.
About the Queensland AI Hub
Queensland AI Hub exists to cement Queensland's status as a national and international leader in AI-enabled social, economic and workplace positive transformation. We do this by connecting Queensland's AI ecosystem and championing the AI community, ensuring the widest collective of stakeholders (AI creators, investors, industry, government, communities) have the right skills and support to understand and implement AI at scale.